Vision Mission Statement
The Vision Department will provide opportunities for children and youth who are blind or visually impaired, including those with additional disabilities, to develop the skills necessary to lead vocationally, personally, socially satisfying, productive and more independent lives through the use of assistive technology, braille, expanded core curriculum, travel skills, etc. so they are community, career and college ready.
Why do we have a Vision program?
The majority of the information transmitted to the brain is through the visual system. When children experience vision loss, it is more difficult to get the same level of information to the brain. The Madison Metropolitan School District employs a team of vision professionals to evaluate students with vision loss, assess their functional vision and recommend instructional accommodations and additional instruction that may help students access their curriculum and environment.
What does the Vision Department do?
The vision staff teach the Expanded Core Curriculum. The ECC is a disability-specific set of skills that compensates for vision loss and is foundational to all other learning. It focuses on independence, assistive technology, vocational training, social engagement and more to prepare your child for his or her fullest life possible.
How? Range of Programming
Full inclusion in regular education classes with the use of accommodations
Observations and Consult with staff and family
Material production/accommodations (e.g. accessible formats)
Push into classrooms for instruction or support TVI or SEA
Pull out direct instruction one on one or co-treating with other teachers/therapist
Homebound instruction for medically fragile students
WSBVI Placement - Wisconsin School for the Blind and Visually Impaired (K-12) in Janesville, WI
Little Peanuts Specialized Preschool at WCBVI (3-5)
Who are we?
Itinerant Vision Teachers
Leanette Dieck (Office at Memorial High School)--West
Naomi Hrdina (Office at Lincoln Elementary School)--West/South Central
Kelsey Tiradani (Office at LaFollette High School)--East/Downtown
Jana Uhler (Office at LaFollette High School)--East/West
Orientation and Mobility Teacher
Brynn Guzzetta (Office at LaFollette High School)
Braille Transcriber
Traci McDonald (Office at LaFollette High School)
Vision Assistants (SEAs):
Lori Nieman (Itinerant)
Lori McGowen (Itinerant)
For information on vision services within MMSD, please contact:
---
Vision Resources
Local/State Organizations:
National Organizations:
Blind and Low Vision Products:
Sharper Vision Store- Madison (e.g. cooking aids, assistive technology, adapted games, sunglasses, free White Canes. Shop located at the WI Council on Williamson St, in Madison, Wisconsin.

Vision Forward Store- Milwaukee (e.g. cooking aids, assistive technology, adapted games, sunglasses)

American Printing House for the Blind (APH) Books, materials, and technology for low vision and blindness
Students with Multiple Disabilities:
Students with Cortical Visual Impairment (CVI):
Braille Resources: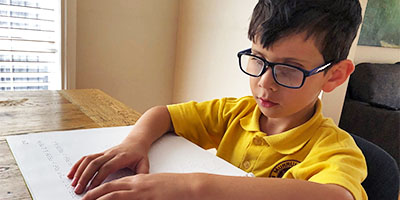 Large Print and Braille:
Deafblind:
Parent Resources:
Orientation and Mobility Resources:
Vision Evaluation Info:
Ocular Report (Needed to determine eligibility for visual impairment)
Accessible Educational Materials (AEM) Resources:
Workplace Resources: